While the concept is novel, it is practical and builds on previous work with adaptations of the latest container handling techniques, combined with large crane technology from the shipbuilding industry. Clearly there will be challenges to overcome during implementation with inevitable changes to the well-developed container handling industry. But the potential benefits are huge, albeit complex to quantify because every port has different geography, historic facilities and customer needs. This container handling solution addresses the challenge laid down in 2015 by Maersk Line's CEO Soren Skou on their unexpected introduction of the much larger vessels. He called for a "step-change" increase to 250 container moves per hour at each berth (up from about 167 at present). While various ideas have been proposed none have been close to achieving this aspiration. However, COFASTRANS can exceed this with just 3 cranes and 325 moves per hour if 4 cranes are deployed (based on the JOC2016 ULCV average of just 2,430 port moves). And by using a more efficient layout, it can occupy a smaller amount of precious coastal strip land.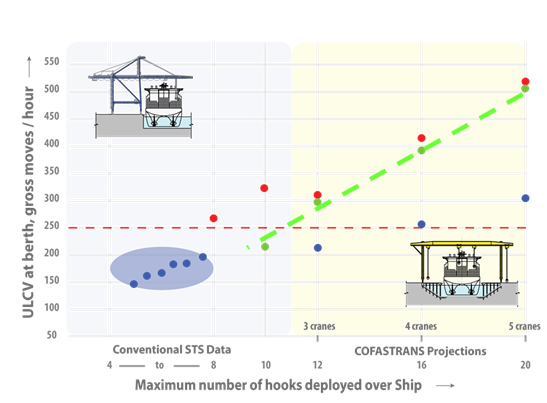 With more and more Mega container vessels coming into operation the time is now right for an in-depth discussion on the fundamentals of port layouts for these vessels, as shippers consider placing more orders and port operators seek to gain an advantage over their neighbouring competitors.  The Mega vessel concept can now be transformed with the introduction of COFASTRANS that will substantially increase efficiency and performance.
Development work has been carried out with support from the EU's Horizon 2020 SME1 programme and in association with Konecranes.